Living in the scenic coastal areas of Virginia provides many opportunities to engage in outdoor activities like pickleball, kayaking, beach walks, and golf. But what if physical limitations are keeping you from thoroughly enjoying these hobbies? This is where physical therapy can make all the difference. Physical therapy promotes an active lifestyle, and blogs by the Therapy Network team that provide physical therapy tips for outdoor hobbies are always popular. In this blog, we combined some of our top tips for hobbies enjoyed in the Hampton Roads region.
Physical Therapy Promotes Daily Lifestyle & Hobby Enjoyment
We often take our physical abilities for granted until they are compromised. Struggles with mobility, balance, or strength can hinder us from enjoying our favorite activities. But with physical therapy, you can improve these aspects and return to your active lifestyle more quickly than expected.
Did You Know you do NOT need a physician's referral to start your physical therapy journey? Thanks to Virginia's Direct Access law, you can directly consult with our licensed physical therapists at The Therapy Network. Keep reading for information and a link to book your first appointment.
Whether you enjoy pickleball, kayaking, golf, or just walking on the beach…Physical therapy promotes an active lifestyle, and The Therapy Network is here to provide services and tips.
5 Ways to Improve Your Pickleball Game with Physical Therapy
Pickleball is increasingly popular, but like any sport, it comes with the risk of injury. Physical Therapy promotes an active lifestyle by rehabilitating you post-injury and helping you prevent future injuries. Here are some ways physical therapy can boost your pickleball game:
1. Injury Prevention: Therapists can identify weaknesses that might lead you to common pickleball injuries.
2. Strength and Conditioning: Target specific muscle groups used in pickleball to improve your game.
3. Flexibility and Range of Motion: Therapists will recommend exercises to keep your joints agile.
4. Balance and Coordination: Improve your footwork and reaction time on the court.
5. Injury Management: If you're already recovering from an injury, tailored physical therapy can speed up your recovery.
Visit our free information library and read about physical therapy's benefits for pickleball players.
Walking on the Beach in Coastal Virginia
There's no better feeling than walking along the Virginia Beach Boardwalk or the soft sands of a secluded beach. Physical Therapy promotes an active lifestyle that makes this simple joy accessible. Follow these tips when embarking on a beach walk:
1. Start Slow: Sandy terrains are challenging. Start with short distances.
2. Wear Appropriate Footwear: Opt for sturdy sandals or shoes that offer support.
3. Walk at Low Tide: It's easier and better for your body alignment.
"The benefits of walking are numerous, but they're best-enjoyed pain-free. Physical therapy can help ensure that you can walk as far and as long as you want, whenever you want."—American Physical Therapy Association.
If walking on the beach becomes painful, The Therapy Network can help diagnose the issue and offer a solution. Read our full blog, "When Walking on the Beach is Painful."
The Link Between Physical Therapy and a Better Golf Game
Before teeing off in any scenic golf courses across Norfolk, Virginia Beach, or Chesapeake, consider how physical therapy can help improve your game and reduce your pain.
1. Injury Evaluation and Treatment: Therapists can pinpoint the causes of your discomfort and create a treatment plan.
2. Pre-Golf Warm-Up: Learn about essential stretches and exercises.
3. Muscle and Mobility: Improve your swing and reduce the chance of injuries.
4. Injury Prevention Plan: A preventive approach can save you from long-term issues.
If you are a golfer, consider reading our blog with additional tips. Book your session at The Therapy Network to help you get the most out of your golf rounds.
Enjoy Kayaking in Coastal Virginia with the Help of Physical Therapy
Kayaking is a fantastic way to explore the waters of coastal Virginia, but preparing your body for the rigorous paddling is crucial.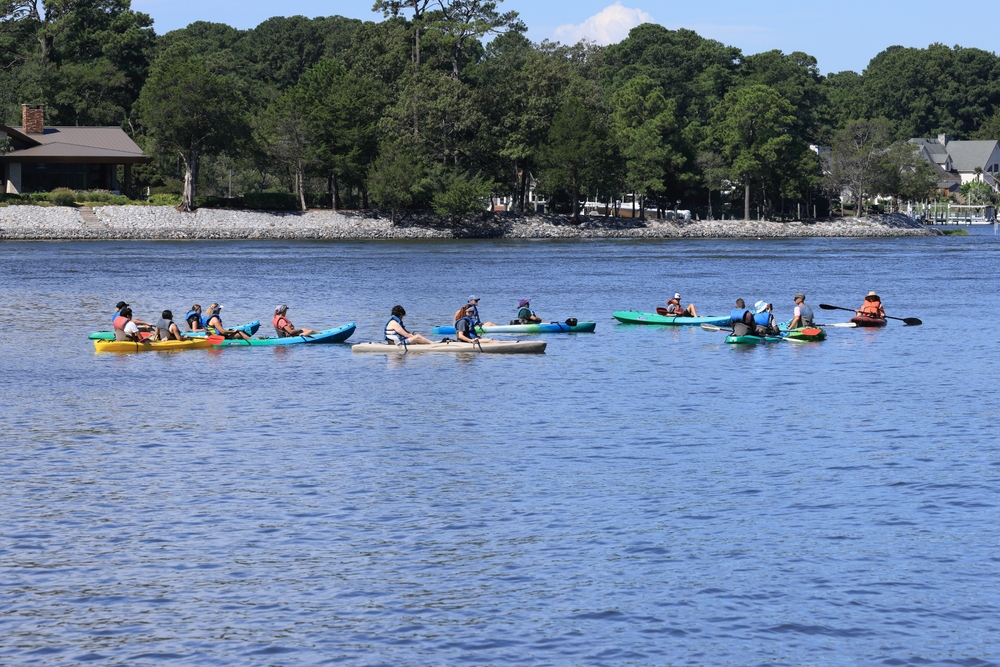 1. Shoulder Strength: Enhance the muscle strength needed for effective paddling.
2. Elbow and Wrist Care: Physical therapy can prevent overuse injuries.
3. Muscle Imbalance: Target stabilizing muscles to avoid injury.
4. Core Fitness: A strong core is essential for kayaking.
If you enjoy paddle sports, read our latest blog about the benefits of physical therapy for kayakers. (Need link to latest blog here)
How Can The Therapy Network Help?
Physical Therapy promotes an active lifestyle that keeps you in shape and prevents injuries, ensuring you can continue enjoying all the outdoor activities that coastal Virginia offers. You do not need a physician's referral to start your journey to recovery or fitness. One is near your home or workplace, with six locations in the Hampton Roads area.
Book an appointment today and continue enjoying all your favorite hobbies in Virginia.