Spondylosis Responds to Physical Therapy
Chronic wear and tear on your spine often lead to Spondylosis. More than 85% of those over sixty are affected by Spondylosis or wear of the spinal disks. Cervical (neck) Spondylosis is more common than Spondylosis in the lower back.
Factors that lead to the wear and tear on spinal disks include age, jobs that include repetitive neck motion, injury, genetics, and even smoking. Any of the following may also cause the condition:
Dehydrated disks

Bone Spurs

Stiff Ligaments
Those with Spondylosis of the neck and lumbar region experience the following symptoms:
Tingling, numbness, and weakness in the arms, legs, or feet

Lack of coordination and difficulty walking

Decreased mobility and range of motion

In extreme instances, loss of bladder or bowel control
The good news is that Spondylosis responds to physical therapy.
Spondylosis and Physical Therapy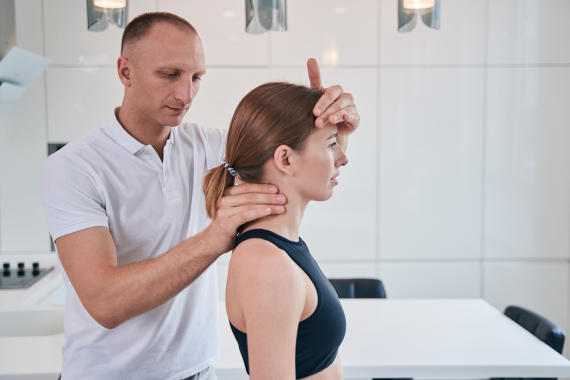 Physical therapy provides non-surgical relief to the symptoms and pain associated with Spondylosis. You will meet in-center with a trained physical therapist during a four-to six-week program.
Physical therapy for Spondylosis may include the following:
Strengthening and stretching exercises

Exercises to reduce both pain and inflammation

A walking or swimming program

Deep tissue massage to relieve pain
Treating Spondylosis with physical therapy lowers the probability of the future need for spinal fusion surgery.
What to Expect at The Therapy Network
Spondylosis responds to physical therapy, and The Therapy Network provides a team of trained specialists. During your customized treatment, your therapist will use the following to relieve pain and increase range of motion:
Range of motion exercises

Pain reduction techniques and education

Stretching exercises and methods

Manual therapy, such as deep tissue massage
Over a four-to six-week period, your physical therapist will use a wide range of methods and will teach you exercises and techniques to use at home.
The Therapy Network has appointments available today. With six offices in coastal Virginia, we offer prompt appointments and service.